Stine Seed Company's efforts to recognize and honor women in agriculture are growing — just as the number and impacts of women in the industry are growing. This year, with Stine's help, women in ag gathered to support each other and to share their stories through their own voices.
Stine has established an annual campaign celebrating women in agriculture — an effort the whole ag industry can be proud of. Now in its third year, the campaign has climbed to national heights. Since the campaign's inception, Trilix has had the privilege of helping Stine plan and implement the campaign, from messaging and event management to creative and video executions.
Stine's annual campaign centers on three specific goals: 
To promote all roles that women have in agriculture.
To encourage young women to pursue careers in agriculture.
To celebrate women's achievements and successes in agriculture.
A formal designation
The centerpiece of each year's campaign has been a state proclamation designating a day in March as Women in Agriculture Day in Iowa. This date is strategically selected to occur during both Women's History Month and National Ag Week. Trilix was honored to assist Stine in facilitating the proclamation request to ensure this year's date was set. We were even invited to the governor's office for the formal proclamation signing.
While the state proclamation is the core element of the campaign, there's far too much content and too many stories to share about the amazing women who feed and fuel the world — too many to include in one day, of course. That's why the campaign has evolved into a monthlong celebration, which has since grown from a local effort to a national one.
"Watching this campaign grow from a local effort sharing the stories of Stine's women in ag to a statewide and now national movement celebrating women from all walks of agriculture has been amazing to witness and be a part of," said Abby Bottenfield, communications director for Trilix. "Stine's leadership in recognizing the roles these women play from the farm, classroom, boardroom and beyond displays their true character as a family-owned business and their commitment to elevating their employees and all others who support the ag industry."
In addition to helping facilitate the proclamation, Trilix was happy to work with Stine on many other tactics that brought the campaign to life.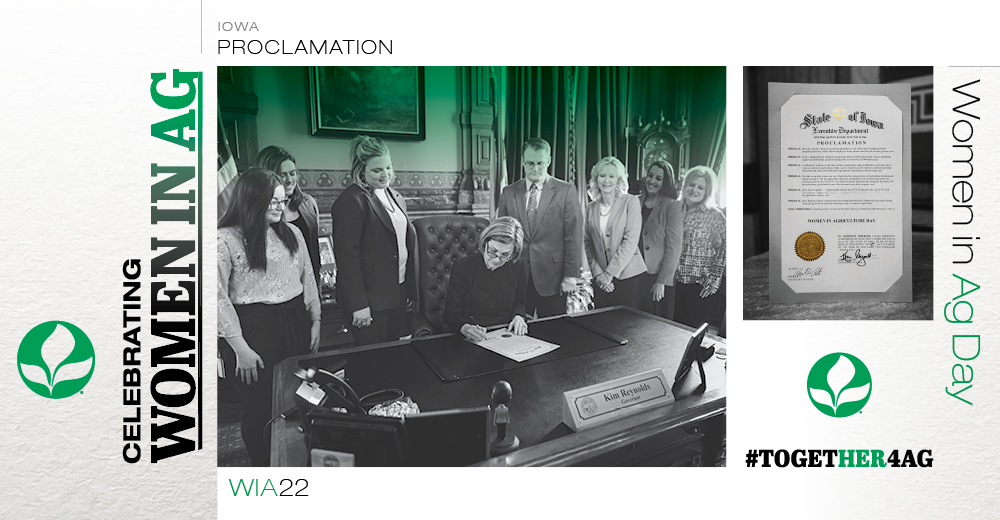 Sharing their own stories
Communication was key to executing a successful campaign this year. To start, Trilix assisted Stine in developing a communications strategy that tied all campaign elements together to support the overarching goals. The tactics in the plan included a mix of media relations, social media, email communications and — new this year — podcasts.
Stine connected with individuals from different corners of the ag industry to interview for this year's campaign, including women in manufacturing, ag education and sales. These interviews were turned into blogs, newsletters, podcasts, social media posts and more and shared with the campaign hashtag, #TogetHER4Ag.
Through the podcast episodes, listeners hear the passion in women's voices when they talk about their goals and efforts that inspire the next generation of ag workers.
Celebrating togetHER
The culmination of this year's campaign was an event — the first-ever Women in Ag Day Reception hosted by Stine on March 24. From special presentations led by Stine's partners in the state proclamation (FarmHer, the Iowa FFA Foundation and Iowa 4-H Youth Development Program) to networking and great giveaways, the event was the icing on the cake for the campaign. Trilix was honored to help Stine plan and execute the event.
Trilix also produced a feature video for the campaign, which launched at the Women in Ag Day Reception. The video compiled images and footage of women in the industry with the new creative elements developed for this year's campaign. It was shared on Stine's social media channels to mark the official Women in Agriculture Day in Iowa.
As worldwide leaders in agriculture, Iowans have so much to be proud of, including the incredible women who work in the industry. Trilix is grateful to have the opportunity to elevate these individuals and their roles through our friends and partners at Stine.