Is there a place for tried-and-true traditional media platforms in your marketing plan? In 2023, there is endless talk of digital advertising, social media and search marketing, but you might find your target audience is still using more traditional kinds of media.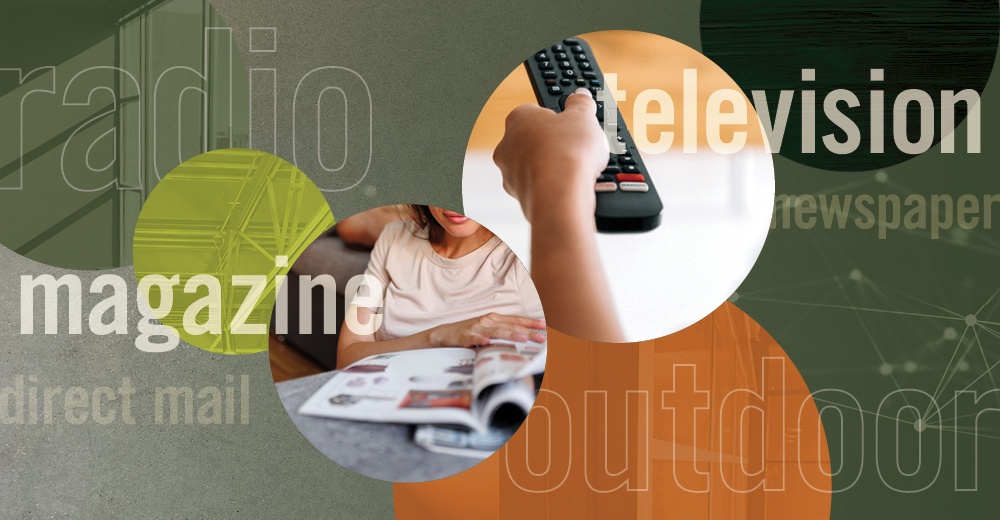 Radio 
Radio remains one of the most powerful advertising platforms in the U.S. Statista.com reports 82.5% of Americans between the ages of 35 and 64 are reached weekly by radio. There are more than 15,000 radio stations in operation. Digital radio plays an ever-increasing role in the market, with an estimated 974 minutes spent listening per listener per month. Plenty of time to work in some well-placed advertising.
Television 
There is no question that traditional television is in a state of upheaval as streaming services compete for a slice of the viewing pie. According to Variety, broadcast and cable viewership is down but not out. The four major networks, ABC, CBS, FOX and NBC, still average 20 million viewers during prime time. News, reality shows and live sports continue to be the pillars of support for television and cable. The viewers who demand that content may well be your target audience.
Newspaper 
The belief that the traditional newspaper would go the way of the dodo has not become reality. While the transition to digital news consumption has hit newspapers hard, Pew Research shows there are hundreds of local newspapers still in publication. Those newspapers reach about 8.3 million people on weekdays and 15.4 million on Sundays, according to a Pew study in 2020.
Magazine 
Much like newspapers, magazine publishers have seen challenges in the digital transition. Despite competition from free online content, Statista.com reports magazines continue to perform well. Statista reports the total number of monthly magazine readers in the U.S. remained above 90 million in 2020. Additionally, the average monthly audience of the top five most popular magazines exceeded 50 million subscribers.
Outdoor
Outdoor, or billboard advertising, showed a significant decline during the pandemic, but Blucactus.com reports the future may be brighter than ever. Now that the public is out and about once again, innovation in the space has taken over. More digital billboards can be seen from sports venues to buildings to city streets. QR codes make getting your message from an outdoor space and onto your customer's phone easier than ever. And the next step may well be artificial intelligence, providing instant interaction with your potential customer.
Direct Mail 
While supply chain issues and postal service challenges have been a factor in the decline of direct mail, Mailing.com highlights some information you should not ignore. In October of 2021, Bed Bath & Beyond cited a reduction in direct mail as a factor in a drop in sales for the previous quarter. According to the Wall Street Journal, "One of the critical missteps … was cutting back key traffic drivers that had been traditionally strong … as the company sought to shift consumer engagement toward online and social media channels." Mailing.com reports direct mail marketing rebounded in 2021 to nearly pre-pandemic levels. When you think about how most people shop these days, it's no surprise that having advertising delivered directly to them still works.
Summary
So, while you may be tempted to put all of your marketing eggs in one digital basket, consider that your ideal customer can still be reached effectively through tried-and-true but evolving platforms.