The holiday season can be especially difficult for families with children who are experiencing a critical illness. Fortunately, shining a light on that darkness is Make-A-Wish® Iowa's specialty. Few events exemplify this better than Jolly Holiday Lights, the nonprofit's largest fundraiser.
For 25 years, the Jolly Holiday Lights festival has raised money to grant wishes to Iowa children diagnosed with critical illnesses. Trilix was thrilled to be part of the milestone by creating a new Jolly Holiday Lights website and producing a documentary that details the fundraiser's 25 years of success.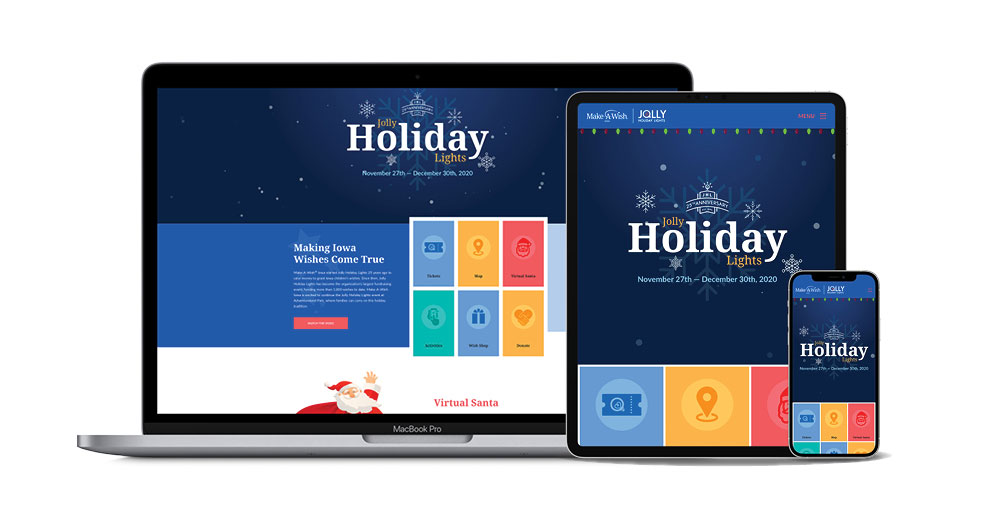 Each holiday season since 1996, visitors have purchased tickets for Jolly Holiday Lights, hopped in the car with family and friends and enjoyed a drive through the festive light displays. Ticket proceeds fund a staggering 80 wishes for Iowa kids each year. In fact, the proceeds have provided for more than 1,000 wishes since 1996, a fourth of the wishes Make-A-Wish® Iowa has granted in total.
While Trilix has worked with Make-A-Wish® Iowa previously, this was the first time we had the privilege to be involved with Jolly Holiday Lights.
"Everyone on our team takes a lot of pride in this project," said Brett Adams, Trilix's chief marketing officer. "As you read the stories of Wish Kids and hear about the effect Jolly Holiday Lights has had, it's easy to see that many can relate to these stories and everyone can be inspired by them. It's work that makes an impact."
For this year's anniversary, Make-A-Wish® Iowa wanted a more interactive and mobile-friendly website. Trilix began working on the organization's website the summer before the winter event. The new colorful, user-friendly site prominently features a set of interactive tiles for vehicle passengers to enjoy as they're driving through the light displays, including trivia, a map of the route, wish stories and a way to message Santa since event attendees can't visit with Santa in person this year.
The site houses other important elements, such as a way to donate and the Wish Shop where website visitors can purchase holiday décor, apparel and other products. Shop proceeds help grant wishes. The website also recognizes the sponsors who make the event possible. While the website provides more functionality that will serve the organization years into the future, it also features Jolly Holiday Lights' 25 years of history in a documentary film.
We spent months creating a documentary that encompasses the hard work, dedication, spirit and impact that makes Jolly Holiday Lights so successful for Make-A-Wish® Iowa. But capturing the impact of 25 years is no small feat. Not only did our video team tackle the challenge of shooting Christmas lights in the dark, but they also began interviewing more than a dozen event founders, venue hosts, volunteers and sponsors in September.
There are so many volunteers; you could interview them forever. We wanted to make sure we captured the essence of Jolly Holiday Lights to make a true documentary.
"The pre-production planning and logistics we did were unbelievable," said James Drescher, senior producer and cinematographer. "There are so many volunteers; you could interview them forever. We wanted to make sure we captured the essence of Jolly Holiday Lights to make a true documentary."
In addition to interviewing those involved with the fundraiser, our video team interviewed wish grantees.
The parents got emotional because this event means so much to them.
"Those were my favorite interviews," said Sydney Dhabalt, video producer and editor. "The parents got emotional because this event means so much to them. One of the key points of the video was showing viewers that they made a difference because 100 percent of the $20 they pay for a ticket helps grant wishes. We wanted to show the children who benefitted from the proceeds."
Our team of editors did a phenomenal job of weaving those narratives together into a video that tells all the highs and lows of the event's history, even supplementing with local news footage that detailed how the Jolly Holiday Lights venue was flooded in the middle of December 2015 during the event's 20th anniversary.
"We wanted to do justice to the previous 25 years to set the scene and celebrate the significance of this year," James said.
Make-A-Wish® Iowa intends to post the documentary on their website and distribute the piece to local broadcast media.
Knowing our work could inspire additional donations and participation in the Make-A-Wish® Iowa mission, the Trilix team was eager to help with producing the website and video. Now, we look forward to enjoying Jolly Holiday Lights this month!
Join in the fun!
Enjoy the holiday festivities and help grant a wish by supporting Make-A-Wish® Iowa.