Trilix has the privilege to work with many clients in various industries. One industry, in particular, frequently gives us the opportunity to travel the country to shoot video and photography, attend trade shows, develop content and meet with the individuals who support farmers and producers around the nation. We're grateful to have wonderful clients who trust us to tell their stories as their innovations help support the growing world demand for agricultural products.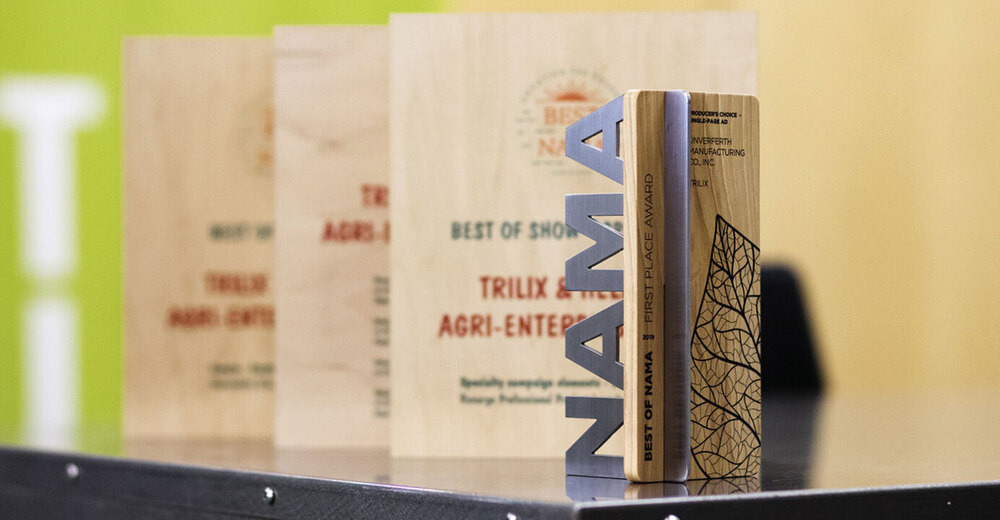 This year, Trilix and our clients Helena Agri-Enterprises, LLC and Unverferth were recognized for our marketing and communications work by the National Agri-Marketing Association (NAMA) — the nation's largest professional association for individuals in marketing and agribusiness. Each year, the Best of NAMA awards program honors "the best work in agricultural communications." Companies and agencies qualify for the national competition through regional competitions. Trilix is thrilled to be recognized both regionally and nationally at this year's Best of NAMA award ceremonies.
At the national Best of NAMA awards ceremony in August, Trilix and Unverferth received the national Producer's Choice Award. We received this award for our work on the Brent Equipment Family of Products ad, which took first place at the Best of NAMA Region VI awards ceremony before advancing to nationals under the category titled "Single-Page Ad, Directed to Farmers, Growers and Ranchers."
"After winning the Producer's Choice Award many years consecutively, the honor unfortunately evaded us last year. We're pleased to win the award again this year," notes Alex Rich, account manager and team lead at Trilix. "We did a refreshing update to the branding aspect of the Brent family of products, and we're happy that the creative work produced by our team and Unverferth was be recognized by NAMA again this year."
In March, we were pleased to learn that our work with Helena garnered four awards, including two Best of Shows, at the NAMA MidSouth Chapter awards ceremony.
Best of Show and First Place (MidSouth Chapter) and Region V Merit Award (PR, Events ­– Customers)
Commodity Classic 2019 Grower Event
Best of Show and First Place (MidSouth Chapter) and Region V 1st Place (Specialty, Specialty Campaign Elements, Single or Series)
Resurge Professional Product Launch Video
First Place (MidSouth Chapter) and Region V Merit (Direct Mail, Dealers, Three Dimensional)
Seed First
First Place (MidSouth Chapter), (Community Building and Engagement – Social Campaign)
Bean Wise Social Media Campaign
Resurge Professional Product Launch Video
Each Helena campaign was established to reach U.S. growers and producers who are seeking agronomic solutions and inputs for their operation. The campaigns were produced with Helena's overarching goal in mind — to provide the people, products and knowledge to help customers succeed.
Paul Burger, our creative director who works directly with Helena on their marketing efforts, believes that a strong connection with the client is key to successfully producing award-winning work. "I truly believe that Helena and Trilix align in our core values, especially when it comes to having meaningful, long-term and collaborative relationships. It's this that has allowed us to do some really fun and creative work together. To be recognized for this is something we're both very proud of."
We're thankful for the meaningful partnerships we have with our clients. Their stories and people fuel the creativity behind this work, and we're grateful for the opportunity to collaborate with them to elevate and promote their brands.