Whether a company is hosting a dinner for staff or exhibiting at a week-long trade show across the country, events create a chance for people to make new connections and bond through a shared experience. Because of that, branded events leave a lasting impression.
Trilix customizes our event management and planning services based on clients' unique needs if they are hosting or attending conferences, trade shows and expos, receptions, fundraisers, board meetings and more. We can assist with planning, create advertising materials, orchestrate the whole event, or attend the occasion as support to make sure everything goes smoothly.
But before we get to that point, we have to help clients tell potential attendees what their event is all about.
Planning and promoting a company event
Promotion is just as important as planning the minute details of an event. After all, what is the point of detailed planning if your intended audience doesn't know what they should be attending?
On the most basic level, we can do marketing and communications for an event, such as create invites and programs, send out registration emails, write news releases, share the event with media, and craft social media posts and paid ads to generate excitement. We can also create collateral and promotional materials, such as signage, posters, videos, social media graphics, branded swag, websites and more. All help create interest for the occasion.
For example, Helena Agri-Enterprises' presence at the annual Commodity Classic is announced to their target audience far before the week of the industry convention. Planning also begins months before the event to ensure the agricultural leader has the kind of presence they want to put forth.
For the multi-day trade show, Trilix creates collateral and promotional items for Helena's booth, and a few members of our team attend the event to help with booth setup and handle on-site social media throughout the convention. We also offer boots-on-the-ground support to help draw attendees into the booth to speak with one of Helena's experts and invite them to the after-party. Additionally, we assist with organizing the after-party, including designing invites and other collateral pieces and producing branded giveaways.
Ensuring a successful experience
In addition to utilizing your own organization's staff at events, enlisting assistance from a third-party as supplemental support can be useful when hosting or attending an event. They can provide extra hands for tasks such as setup and teardown, facilitate media interviews, document the event and more.

Trilix team members often attend events for reasons other than active management, including taking pictures for social media, organizing interviews, shooting video footage or even helping with live podcasts.

An example of this type of support is our work with the International Association of Food Protection for their annual meeting. The 2023 IAFP Annual Meeting hosted more than 3,200 of the top industry, academic and governmental food safety professionals. Several members of the Trilix team were also in attendance to capture social media content and video work as well as to facilitate interviews. All helped provide additional support and ensured that IAFP was able to tell its story even after the event wrapped.
From beginning to end: full event experiences
The highest level of event management that we do for clients is where we take care of all the planning, handle pre-promotion, offer on-site management during the event and follow up on efforts after the occasion.
During its annual Directors Council, Stine® Seed Company hosts a two-day meeting for the company's leadership and sales team. Trilix works with Stine to determine a location ideal for accommodating a large group. We also coordinate with a travel agent as part of this process to send out communications and help book and organize flight itineraries for attendees. Then, everything from food and entertainment to transportation and social media coverage is planned by our team. At least one person from Trilix travels with the client to make sure everything goes smoothly and to take care of everything they need, including taking notes during the meeting to reference when creating future communications.
Another important event in Stine's portfolio is the organization's annual Women in Ag Reception, which is the culmination of Stine's month-long campaign celebrating the women in agriculture. Trilix takes care of the flowers, catering and invitations, and we work with Stine to get approval on everything, including budgets. We also help craft the invitation list, keep track of RSVPs, create an appropriate-yet-fun Spotify playlist for the reception, organize giveaways, draft a news release and invite media to the event. Several members of our team attend the reception every year to offer on-site support. After the campaign wraps up, we can even create a post-event recap report for the client.
As part of our working partnership with Make-A-Wish® Iowa, a nonprofit dedicated to granting the wishes of children with critical illnesses in the state, Trilix provides communications, public relations, video and event management support. There are many fundraising events throughout the year and across the state that Trilix creates communication collateral for, including social media posts and emails.
Every year, Make-A-Wish Iowa hosts their Des Moines and Riverbend galas to highlight the impact of the organization on the lives of critically ill children and to raise money to grant life-changing wishes for Iowa kids. Trilix helps develop the themes and produce the video content shared at these events in addition to creating all the signage and communications pieces, such as programs.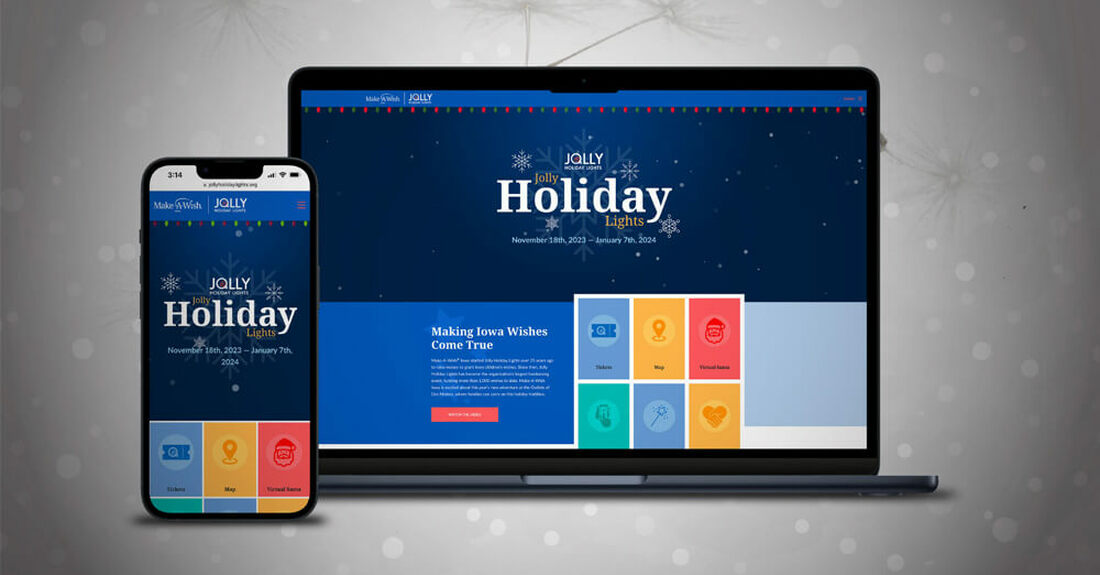 Make-A-Wish Iowa's biggest annual fundraising event is Jolly Holiday Lights, a central Iowa holiday tradition that began in 1996. In addition to being a sponsor, Trilix handles public relations, strategic communications, website and creative work for the almost two-monthlong event. Our team is responsible for producing and maintaining the Jolly Holiday Lights website as well as designing creative assets for the fundraiser, including flyers and signage. Trilix also creates communications for the event, such as emails, social media posts and news releases, and offers strategic communications support on how to effectively communicate changes to the beloved event.
Hosting and attending events are important parts of a company's marketing plan because they can allow organizations to show appreciation for staff, connect with other industry leaders, draw in new customers, enhance the reputation of your business and more. There are many aspects that go into planning and executing a successful event, including planning, promotion and ensuring a memorable experience for your attendees.
Interested in working with Trilix for your next event? Whether you need an extra set of hands or want an event leader to create and execute a full plan, we can help.  Let's start a conversation.