Trade shows and annual events lead to business advancements, such as peer connections, new business leads, educational opportunities and product launches, as well as fun extracurricular activities (dinners and drinks). Unfortunately, many trade shows were canceled or seriously scaled down in the last few years.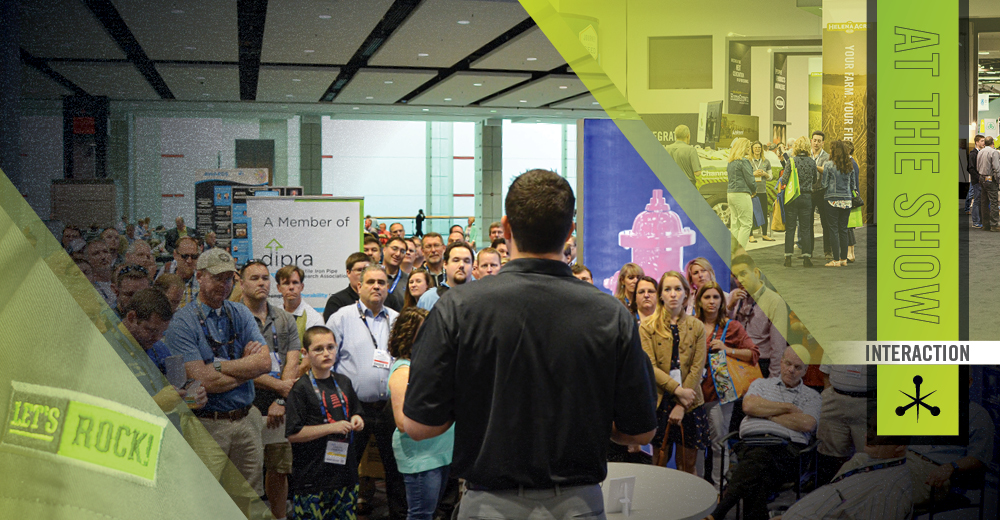 This year, many are looking forward to reviving and revamping industry trade shows, and not just for the bowls of free candy on booth tables. For one, trade show visitors typically spend about nine hours viewing exhibits at trade shows. Hybrid events are ever more popular, too, but few virtual attendees are likely to spend the same time glued to a computer screen perusing virtual booths. As always, adopting a multichannel approach ensures you'll reach as many attendees as possible.
Whether your industry trade show is all in-person or contains virtual components, we'll walk you through how your brand can make the most of its efforts during the event.
Facilitate flow of booth traffic.
In the first installment of our trade show series, we shared the importance of a well-branded booth to grab attendees' attention. Keeping them at the booth long enough to have a meaningful interaction is the next step. It's crucial to create a layout that aids the flow of traffic to and through the booth. Understanding how visitors will walk from the entrance of the venue and through the exhibits helps determine how to set up your booth's perimeter.
Then, you can plan what Trilix calls the "orbital approach," with different "orbiting" layers to the booth setup. At each layer of the booth, we help clients consider their goal for interacting with attendees and how that area of the booth will be staffed. Booth size may determine the number of staff you'll need, but brands still need to determine if every staffer will be an expert on products and services or if some staff will simply assist handing out items and answering general questions.
"The first zone — the perimeter of the booth — consists of branded materials to clearly identify the booth and friendly, outgoing staffers who help draw visitors to the booth, hand out promotional items and answer general questions," said Brett Adams, Trilix president. "The second layer may have more knowledgeable sales staff who collect leads and conduct product demonstrations. At the third level, you'll have product and service experts who can handle the most in-depth conversations."
In each orbit, staff are looking to build connections by getting show attendees to take promotional items or sign up for giveaways, learn more about products and services and leave with a lasting impression of the brand.
Lights, camera, booth tech!
Technology can make it easier for you to capture attention and leads during a bustling trade show. Dynamic light displays can help illuminate branded items and products. Videos — with captions so as not to battle the din of a crowd — are a great way to get the attention of passersby and share information about products and services. What's more, using video in the booth could boost your bottom line: 70% of B2B buyers watch videos throughout the path to purchase.
When it comes to gathering leads and sharing information, tablets beat the cumbersome clutter of handwritten contact information scrawled on slips of paper and stacks of sales sheets. We recommend collecting and saving contact information multiple ways in case tech programs glitch. It's also a great idea to have trained staff to help visitors use the tech.
"Sometimes users aren't comfortable with the technology, so if they're told to fill out a form, they might have gotten all the way to the end of the sales cycle only to abandon the transaction," Brett said. "Sometimes the technology can fail, and staff need to have a plan B ready."
Promotional items further branding.
Trade show attendees expect giveaways and promotional items whether they're lower-value items that could fit in a swag bag, like pens, hats or bottle openers, or coveted technological devices and other high-dollar items like wireless headphones or fancy coolers. In fact, giveaways are listed as a top reason people visit a booth. The key is to give away easy-to-carry promotional items with enough intrigue that attendees at least take them out of the event space.
"Something as small as a logo-stamped magnet for the refrigerator could prompt a person to look up the brand," said Brent Wirth, vice president of creative. "Even if it simply sits on the refrigerator for months, that piece provides occasional brand reminders. High-ticket items will likely attract a lot of attention and attendees to the booth, but you want to make sure prizes tie back to the organization or it becomes a gimmick that doesn't serve the brand."
Capture attention at pre- or post-show and off-site events.
Hosting separate events before, during or after the show is a good way for businesses to ensure a captive audience in exchange for providing free food, drinks, entertainment or all of the above. It's a time to gather employees, key stakeholders, and existing and potential clientele without the bustle and distraction that happens during show hours.
If you invite everyone to a branded space for either a small gathering or a big party, happy hour or breakfast, you're able to build brand recognition fast by having them correlate that brand name, product or service with a great time. People come back looking for that great time the next year.

Brent Wirth, vice president of creative at Trilix
"If you invite everyone to a branded space for either a small gathering or a big party, happy hour or breakfast, you're able to build brand recognition fast by having them correlate that brand name, product or service with a great time," Brent said. "People come back looking for that great time the next year."
These events are an ideal time to carry out product launches and share information about upcoming initiatives. While 92% of trade show attendees say their main reason for attending trade shows is to see new products, the last thing a brand wants when they've planned a big product launch is to be upstaged by the booth across the aisle that's giving away a popular promotional item. Separate events allow the brand to get more attention from key audiences, and then they can tout the revealed product during show hours.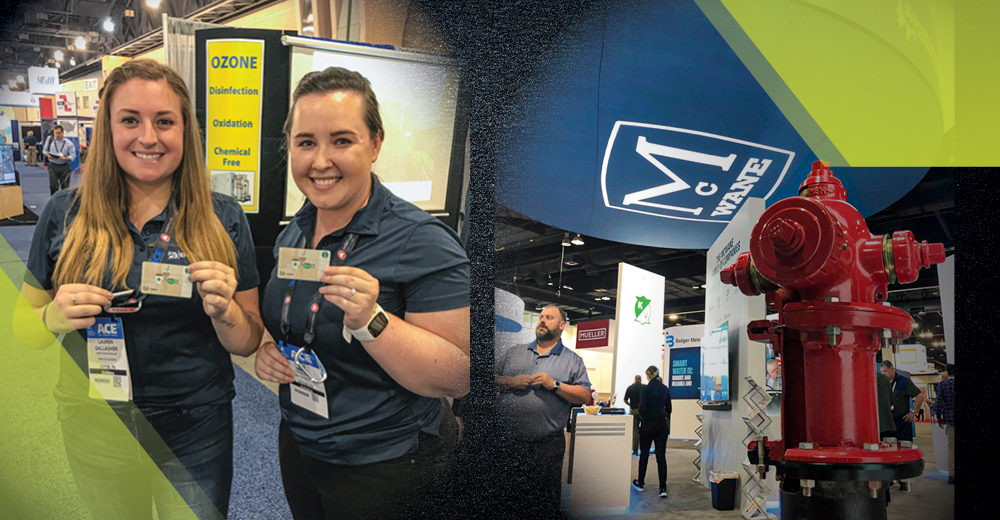 Connect and learn.
Professionals would be remiss to attend a trade show and not take advantage of all the networking and learning opportunities. Networking with attendees and colleagues can generate new business and new ideas for your employees to take back to the office. Visiting other booths could also help brands understand what did and didn't work in terms of booth layout. Many shows also offer expert panels and keynote speeches with helpful insights. These panels can present a speaking opportunity for your organization's leaders, further positioning them and your brand as trusted experts and thought leaders. Trade shows and conferences also are a great time to gather feedback from returning customers who stop by to chat.
Finally, trade shows present an opportunity to connect with industry media members. Even if you weren't able to arrange an interview for an executive or don't have anything particularly worth covering this year, we recommend reaching out to media covering the show for industry publications to arrange get-to-know-you chats to lay the groundwork for future outreach and coverage. If nothing else, you'll establish your brand and team members as expert sources within a journalist's beat.
Executing the best trade show tactics can require a lot of planning and contain many moving parts, but your efforts can easily be repaid in leads garnered and connections made. In our next blog about trade shows, we'll walk you through how to follow through on leads.